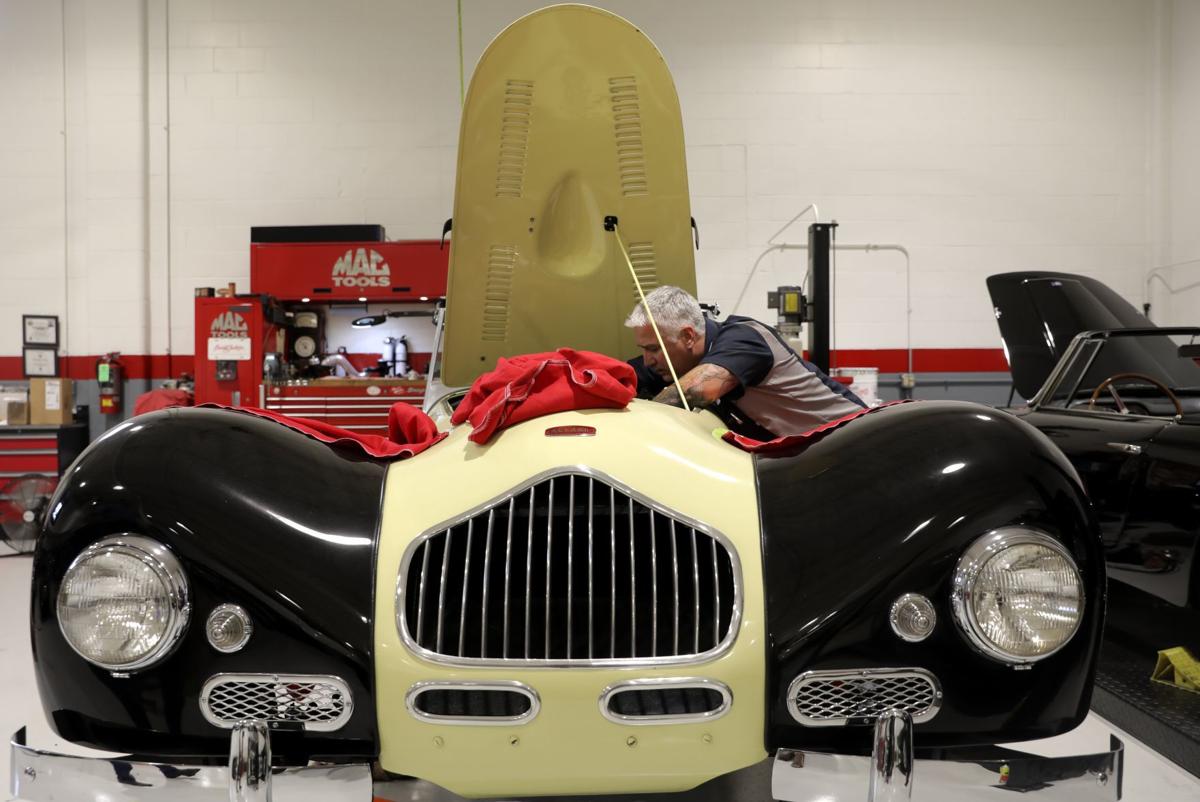 The administration of President Donald Trump in effect delayed earlier this month a decision to impose a 25 percent tariff on auto imports and parts, which calmed many in the auto industry.
But several St. Louis area classic and vintage car dealerships are worried the tariffs, if implemented, could undercut their businesses.
"I'm concerned because there is the potential for those tariffs to vastly disrupt my business and the entire industry of high-end classic cars," said Mark Hyman, owner of Hyman Ltd.
"The tariffs would make it cost-prohibitive to buy overseas," he said. "But then there's the potential that other countries would impose retaliatory tariffs that is of equal concern. The market for these cars could possibly come to a screeching halt, and the values of them would go way down as a result."
The value of the premium vintage car segment, according to insurer Hagerty, remains near historically high levels, though growth has been relatively flat over the last two years. Hagerty estimates that as many as 29 million classic, exotic or vintage vehicles exist in the market today.
The current import duty for imported vehicles is 2.5 percent. Trump's administration announced in May that it would explore the idea of imposing the increased tariffs on imports of passenger vehicles, which according to the U.S. Department of commerce had grown from 32 percent of cars sold in the United States to 48 percent while employment in motor vehicle production declined by 22 percent.
"There is evidence suggesting that, for decades, imports from abroad have eroded our domestic auto industry," U.S. Secretary of Commerce Wilbur Ross said in a statement at the time. "The Department of Commerce will conduct a thorough, fair, and transparent investigation into whether such imports are weakening our internal economy and may impair the national security."
The announcement was met with backlash from many auto manufacturers and dealers, which said it would drive up costs.
Mark Hyman, a former real estate broker who founded Hyman Ltd. in 1989, testified this summer in front of a U.S. Department of Commerce panel in Washington.
"The proposed tenfold increase of duties on vehicles and parts will in all likelihood put a stop to the importation of important collector vehicles," he said in the testimony.
To implement the increased duty, the Commerce Department must publish an analysis on the effects of such measures. That report was expected to be released this month, though Ross has since said it could take longer to finalize, thus delaying a decision on the matter.
"It's not a great thing for the hobby," said Noah Alexander, founder of Classic Car Studio in Brentwood. "Many of the parts for these classic cars in the hot rod industry are designed in the U.S. but sent overseas to be made. So throwing a 25 percent tariff on those parts would rock the whole industry."
Alexander said his business wouldn't be overly affected by the import tariffs, as Classic Car Studio doesn't import many vehicles. But the added costs associated with the auto parts could hurt Classic Car Studio's restoration business, which is growing quickly and represents about half of its $8 million-a-year business.
"The average restoration job for a large custom job may have parts that cost more than $100,000, so that would be a big bump we'd have to put into an estimate," he said. "That 25 percent would smoke our margins, which aren't that big to begin with."
Dan Hillebrandt, general manager at Fast Lane Classic Cars in St. Charles, said the retaliatory tariffs that could be implemented by other countries would be more of a threat to his business, which sells about 400 American muscle cars per year.
Hillebrandt said he was seeing more buying activity from international markets such as Europe and Australia.
"I do worry (tariffs) could hurt that section of my clientele," he said. "To me, it's a money grab. It just doesn't make any sense. All you'll do is ruin a multi-billion dollar business."
https://www.stltoday.com/business/local/vintage-car-dealers-worried-import-tariffs-will-put-the-brakes/article_4d8876d3-5e2b-5ccf-9a26-c2aa2c1acace.html